Article by Van het Reve: sources and notes
Read The free exchange of ideas and information by Van het Reve, a translation of the article published in Internationale Spectator, 8 april 1973
1 - Yuri Galanskov: Born 19 June 1939 in Moscow. He began his first dissident campaign in 1961: he sent a letter to the KGB and Krushchev in defence of other dissidents. He was briefly arrested for the first time in 1965 for being present at a meeting held on Pushkin Square in Moscow. In 1966, he edited a collection of poems entitled Phoenix 1966 (to which he also contributed two poems of his own). This typed manuscript was sent to the West for which he was arrested in 1967. In 1968, he was put on trial in the 'trial against the four' (together with Alexander Ginzburg, Alexei Dobrovolsky and Vera Lashkova) for anti-soviet agitation and propaganda. He was given 7 years hard labour. He died at the camp in 1972.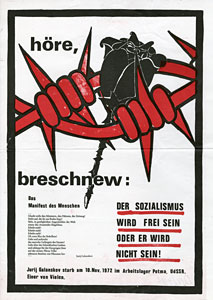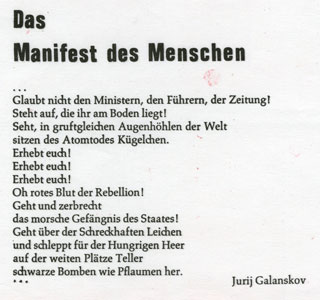 2 - Recommendations of the intergovernmental Conference on Cultural Policies in Europe, Helsinki 19-28 June 1972. Minister P.J. Engels represented the Netherlands. See: http://www.unesco.org/culture/laws/helsinki/html_eng/page1.shtml.
3 - Letter from Marx to Engels; see also Karl Marx, Friedrich Engels Werke Band 30 (Berlin: Dietz Verlag, 1964) 257-259.
4 -
P.J. Engels. Minister for Culture, Recreation and Social Work in the Biesheuvel cabinet. Engels issued a reprimand to the VPRO broadcasting company under article 61 of the Broadcasting Act, for broadcasting the second Barend Servet Show. The show, broadcast on 14 December 1972, represented a threat 'to public order and good morals, as practised in the Kingdom [of the Netherlands]'. He called the images of half-naked people 'almost obscene' and those showing a person bearing a strong resemblance to Queen Juliana 'shameful and an insult to royal dignity.
5 - Cartoon from Opland, 5 January 1973, depicting the reprimanding by P.J. Engels of the VPRO in 1972 over the Barend Servet Show. The Barend Servet Show was a tv show broadcast by the VPRO in which IJf Blokker as the bungling Barend Servet stumbles from one disaster to the next. The show was a combination of confusing parts in which traditional variety items were interchanged with absurdist theatre. The show was also spiced up using striptease and other 'naked dance' with a hint of eroticism.