IISH publications on CD-ROM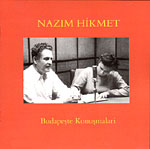 Nazim Hikmet, Budapeste Konusmalari
Amsterdam: IISG, 2003; CD (mp3/mpeg/real audio)
This CD can be ordered from Aksant publishers ()
The IISH holds eight sound tapes (7 hrs.) with recordings of speeches and readings by Nazim Hikmet for Budapest Radio in 1955. This CD contains the complete recordings for Budapest Radio. Hikmet reads his own poems and those of other Turkish poets such as Tevfik Fikret, Orhan Veli, Oktay Rifat, and Melih Cevdet Anday.
On our site you can hear a few poems read by Nazim Hikmet.
This CD-ROM brings together the writings of the Russian anarchist Michail Aleksandrovic Bakunin. It includes images and transcriptions of more than 1200 letters and more than 350 texts that Bakunin wrote in the period 1823-1876. More information on Bakunin on CD-ROM.
Volkstellingen 1795-1971
Samengesteld door CBS (J.K. Jonker, J.G.S.J. van Maarseveen en T. Vreugdehil) en NIWI (P.K. Doorn)
Amsterdam: Stichting beheer IISG, 1999
Deel 1. Data en publicatie volstelling 1899. Twee cd-roms ISBN 90-6861-176-3
Deel 2. Publicaties Volkstellingen, 1795-1971. Vijf cd-roms ISBN 90-6861-177-1
Volkstellingen verschaffen veel gedetailleeerde, historische gegevens over de omvang en de samenstelling van de bevolking naar leeftijd, regio, godsdienst, beroep, huisvesting, onderwijsniveau en dergelijke. Sinds 1795 zijn deze grootscheepse operaties in Nederland gehouden, vanaf 1829 tot 1971 telkens om de tien jaar. Het is dan ook niet verwonderlijk dat deze publicaties tot de meest geraadpleegde van het CBS behoren.
Door die hoge gebuiksfrequentie is de fysieke staat van sommige delen echter slecht. Het CBS heeft daarom zijn honderdjarig bestaan aangegrepen om samen met het Nedrelands Instituut voor Informatievoorziening de publicaties van all deze tellingen (ca. 40.000 pagina's) op cd-rom te zette. De eerste telling die het CBS heeft uitgevoerd, was die van 1899. Daarvan zijn alle afzonderlijke gegevens gedigitaliseerd en direct bij de hand. Voor onderzoekers en geïnteresserden vormden deze cd-roms een rijke historische bron.
A. Diederich & E. Vermeij, Verzeichnisse 1997/1998. Verzeichnis der lieferbaren Broschüren, Verzeichnis der alternativ Medien & graue Literatur im IISG, ID-Archiv CD-ROM No 1.
Amsterdam: Stichting beheer IISG, 1998, ISBN 90-6861-164-X
Contains the databases 'Verzeichnis der lieferbaren Broschüren' (grey literature) 'Verzeichnis des AlternativMedien' (journals from Germany, Switserland and Austria) and a survey of German-language grey literature from the IISH catalogue.
S. van der Velden, Stakingen in Nederland. Arbeidersstrijd 1830-1995. CD-ROM part of the book.
Amsterdam: Stichting beheer IISG, 2000
See also the strikes database on this site.