ViVa Journals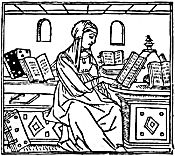 Basic list of journals indexed in
ViVa Bibliography of
Women's History.
Titles in boldface indicate the journals that are indexed. Titles in normal face are either no longer indexed or have been indexed only occasionally. AfricaBib journals are not included in this list. For more journal and indexing information go to the
detailed list
.
1848. Révolutions et mutations au XIXe siècle
1999 Zeitschrift für Sozialgeschichte des 20. und 21. Jahrhunderts
Aanzet
Achttiende Eeuw
Afdeling Agrarische Geschiedenis Bijdragen
American Historical Review
Anarchist Studies
Annales
Annales historiques de la Révolution française
Arbeiderhistorie
Arbejderhistorie
Arbetarhistoria
Aspasia
Archiv für Sozialgeschichte
Beiträge zur Geschichte der Arbeiterbewegung
Belgisch Tijdschrift voor Filologie en Geschiedenis
= Revue belge de philologie et d'histoire
Belgisch Tijdschrift voor Nieuwste Geschiedenis
= Revue belge d'histoire contemporaine
Bijdragen en Mededelingen betreffende de Geschiedenis der Nederlanden
Brood & Rozen
Bulletin d'Histoire Contemporaine de l'Espagne
Bulletin de la Société de l'Histoire du Protestantisme Français
Bulletin of the History of Medicine
Bulletin of the Society for the Study of Labour History
Business and Economic History
Business Archives
Business History
Business History Review
Cahiers Charles V
Cahiers Charles Fourier
Cahiers de Civilisation Médiévale
Cahiers d'Histoire
Cahiers d'histoire du temps présent
= Bijdragen tot de Eigentijdse Geschiedenis
Cahiers du monde russe
Calcutta Historical Journal
Canadian Historical Review
Central European History
Clio
Comparativ
Comparative Studies in Society and History
Contemporary European History
Continuity and Change
DinaMiek
Dix-huitième siècle
Early Medieval Europe
Economic History Review
Economisch- en Sociaal-Historisch Jaarboek
English Historical Review
Enterprise & Society
Entreprises et Histoire
European History Quarterly
European Review of Economic History
European Review of History
= Revue européenne d'histoire
European Studies Review
Ex Post Facto
Ex Tempore
Feminist Review
Feminist Studies
Feministische Studien
French Historical Studies
French History
Gender and History
German History
Geschichte und Gesellschaft
Geschichtswerkstatt
Gesnerus
De Gids
Groniek
Hawwa
Histoire Economie et Société
Histoire Sociale
= Social History
Historical Journal
Historical Reflections
= Réflexions Historiques
Historische Zeitschrift
History
History of Education
History of Education Quarterly
History of The Family
History Workshop Journal
Holland, historisch tijdschrift
L'Homme
Indian Economic & Social History Review
Indian Journal of Gender Studies
International Journal of Women's Studies
International Labor and Working-Class History
International Review of Social History
Internationale wissenschaftliche Korrespondenz zur Geschichte der deutschen Arbeiterbewegung
Intersections
Itinerario
Jaarboek der sociale en economische geschiedenis van Leiden en omstreken
Jaarboek Parlementaire Geschiedenis
Jaarboek van het Centraal Bureau voor Genealogie
Jaarboek voor Vrouwengeschiedenis
Jahrbuch für Forschungen zur Geschichte der Arbeiterbewegung
Jahrbuch für Wirtschaftsgeschichte
Jahrbücher für Geschichte Osteuropas
Journal for MultiMedia History
Journal of African History
Journal of American History
Journal of American Ethnic History
Journal of Caribbean History
Journal of Contemporary History
Journal of Early Modern History
Journal of Economic History
Journal of Family History
Journal of Global History
Journal of Historical Sociology
Journal of Interdisciplinary History
Journal of Latin American Studies
Journal of Medieval and Early Modern Studies
Journal of Medieval and Renaissance Studies
Journal of Medieval History
Journal of Modern History
Journal of Social History
Journal of Southeast Asian Studies
Journal of the Economic and Social History of the Orient
Journal of the History of Ideas
Journal of the History of Medicine and Allied Sciences
Journal of the History of Sexuality
Journal of Transport History
Journal of Women's History
Journal of World History
Labor: Studies in Working-Class History of the Americas
Labor History
Labour
= Le Travail
Labour History
Labour History Review
Left History
Lilith
Lover
Madoc
Mededelingen van de Stichting Jacob Campo Weyerman
Mediaevistik
Medical History
Metis
Mitteilungsblatt des Instituts für Soziale Bewegungen
Modern China
Moyen Age
Negentiende Eeuw
NEHA-Jaarboek
NEHA-Bulletin
New Zealand Journal of History
Nora
North West Labour History
Österreichische Zeitschrift für Geschichtswissenschaften
Onvoltooid Verleden
Opossum
Oral History
Pakistan Journal of Women's Studies: Alam-e-Niswan
Past & Present
Radical History Review
Revolutionary Russia
New Revue d'histoire du XIXe siècle
Revue d'Histoire Moderne et Contemporaine
Revue française d'études américaines
Revue Historique
Rural History
Russian Review
Saeculum
Saothar
Scandinavian Economic History Review
Scandinavian Journal of History
Scripta Mercaturae
Seventeenth Century
Sextant
Signs
Sixteenth Century Journal
Skript
Social History
Social History of Medicine
Social Politics
Social Science History
Socialist History
Socialisties-Feministiese Teksten
Solanus
Sozial.Geschichte
Speculum
Spiegel Historiael
Studies in History
Technikgeschichte
Terrain
Textielhistorische Bijdragen
Theoretische Geschiedenis
Tijdschrift voor Genderstudies
Tijdschrift voor Geschiedenis
Tijdschrift voor Sociale en Economische Geschiedenis
Tijdschrift voor Sociale Geschiedenis
Tijdschrift voor Vrouwenstudies
Tijdschrift voor Zeegeschiedenis
Trajecta
Twentieth Century British History
Urban History
Victorian Studies
Vierteljahrschrift für Sozial- und Wirtschaftsgeschichte
Vierteljahrshefte für Zeitgeschichte
WerkstattGeschichte
Women's History Review
Women's Studies International Forum
Women's Studies International Quarterly
Zeitschrift für Geschichtswissenschaft
Zeitschrift für Unternehmensgeschichte
Zeitsprünge
Zeventiende Eeuw