Virtual Exhibitions

Neo-Malthusianism: Birth Control in the Netherlands
Exhibition on the introduction of birth control in the Netherlands between 1870 and 1940, and the accompanying debate.

Rebels with a Cause
Online version of the exhibition commemorating the 75th anniversary of the IISH.
Censorship!
A choice of books, newspapers, pamphlets, political cartoons, and the like from the collections of IISH and Dutch Press Museum.
Down and Out
53 photographs by Ravi Agarwal of working people in the so-called informal sector of India's economy, 1997-1999.

Red-Haired Barbarians
40 Rare Japanese prints depicting the Dutch and other foreigners in Nagasaki and Yokohama, 1800-1865.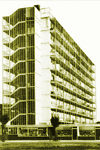 Digital Museum of Public Housing
A century of public housing in the Netherlands, seen through photos from the Aedes archive.
(in Dutch)

Against Risks and Calamities
56 posters on safety and health at work from the collections of the IISH, 1910-2000.
(in Dutch)

IALHI Webmuseum
A chronicle of the labour movement around the world in over one hundred photos, posters, prints, flags, banners, historical objects from labour history institutions.

Support! Vote! Strike!
150 Dutch social and political posters from the collections of the IISH, 1870 - 1998.
(in Dutch)


Art to the People
Prints, cartoons and posters by Walter Crane, Théophile-Alexandre Steinlen, Albert Hahn, Frans Masereel and Gerd Arntz.

The Chairman Smiles
145 Political Posters from the former Soviet Union, Cuba and China.
See also
Press Museum Exhibitions (in Dutch) - an overview of the virtual exhibitions of political cartoons since 2003.
Historical Image Archive on Migrants (in Dutch) - virtual exhibitions on Italian, Greek, Moroccan, Surinamese and other migrants in the Netherlands.

Chinese Propaganda Posters.