Indonesia
The IISH has books, brochures, and newspapers and magazines concerning Indonesia during the colonial and especially the late-colonial and post-colonial periods. Aside from review studies, this material is largely about aspects of Dutch East-Indian society (ca. 1910-1942), the nationalist movement, and the struggle for independence and the Republic of Indonesia from 1945 onward.
The material covers diplomatic relationships, as well as political and economic trends. It also deals with the coexistence of different ethnic groups, along with issues such as culture and education, working conditions, and the workers and trade union movements.
The collection obviously highlights imperialism, colonialism, and social movements.
Periodicals
The incomplete prewar periodical series (magazines and newspapers in both Malay and Dutch) are highly diverse. The collection includes: Kritiek en opbouw (1938-42); Modjopait (1915, no 31); Nederlandsch-Indië, Orgaan van de Vaderlandsche Club (1932-33); De Planter, Orgaan der Vakvereeniging voor assistenten in Delhi (1929-40); De School (1931-40); Soeara Ra'jat (1918-21); Soldaten- en Matrozenkrant (1918-20); De Stuw (1930-33); De Taak (1917-24); Het Indische Volk (1917-26); De Volharding (1914-19); De Indiese Volksschool (1918, nos 1-23); Het Vrije Woord (1915-22).
See also: Indonesian Periodicals at the IISH (pdf, 158 kb)
Archives
Countless archival collections at the IISH relate Indonesian history. For example, the Institute's archives address Dutch socialist activists in late-colonial Indonesia such as H.A. Aa (1913-62). This collection consists of reports on political and economic subjects in Indonesia during the years following 1945. In addition, the papers of A. Baars (1892-1944) focus on his time in Indonesia (1915-21), and the papers of Ch.G. Cramer (1879-1976) contain mainly correspondence and documents about his membership of the People's Council (1918-23). Other examples include the papers of D.M.G. Koch (1881-1960), which comprise letters and documentation about Indonesia; the papers of H.H. van Kol (1852-1925), which contain documentation and correspondence; the papers of S. Koperberg (1884-1957), which consist mainly of correspondence and documentation about Indonesian political and social affairs after 1945, and the papers of W. Middendorp (1886-1976), which reveal economic study plans for the Garut District.
The papers of H.J.F.M. Sneevliet (1883-1942) consist mostly of documents about the Indische Sociaal-Democratische Vereeniging [Indies Social-Democratic Association] (1914-18); the papers of J.E. Stokvis (1875-1951) contain documentation, clippings, and some correspondence about Indonesia; the papers of J. Toot (1887-1960) offer reports on the Dutch-Indies Educational Council (1929-31); and the papers of J.L. Vleming (1879-1965) comprise documentation and correspondence about his work as a tax official in the outlying districts.
Other noteworthy archival collections acquired in the last years:
Sobron Aidit
July 2007 the Institute acquired the archive of Simon Sobron Aidit, Indonesian exile in Paris; leftist writer and brother of PKI-leader D.N. Aidit; passed away in february 2007.
The archive contains his diary 1969-1982, correspondence (mainly by e-mail) 1997-2000, typescripts and some manuscripts of poems, articles and essays from the period 1950-2003.
Koninklijke Drukkerij De Unie te Batavia/Djakarta
Through a gift by mr. J.G. Berkhout from Haarlem and with the help of the Royal Tropical Institute(KIT)the Institute recently received a small archive collection on the Koninklijke Drukkerij De Unie in Batavia/Djakarta.
The collection consists of an ordner with correspondence from - mainly - Nicolaas Metzelaar, when still alive director of the Java Bode, also president-director of De Unie N.V. De correspondence spans the period from 1947 up to the settling of the claims (due to the "forced" sale of the company to the Indonesians in 1958) at the start of the 1970s. A photoalbum and a number of books have been added to the collections of KIT.
Wolters, W.G.
Periode: (1959-) 1971-1975 (-1997)
Omvang: 0.12 m.
Willem Gerrit Wolters; born in Landsmeer 1940; studied Social Geography at the University of Amsterdam; took his doctoral degree with professor Wertheim, professor at the University of Amsterdam, with the dissertation 'Klasseverhoudingen en politieke processen in Centraal Luzon, Filippijnen', 1975; faculty at the University of Amsterdam and Erasmus Universiteit Rotterdam; professor economic antropologhy at Radboud University Nijmegen; did a lot of fieldwork on Java, Indonesia (between 1978 en 2001) on landownership relations, labour relations, agrarian production, local trade and into the naar het effect of the economic crisis of 1997-1998.
Correspondence between W.G. Wolters and W.F. Wertheim 1971-1975; articles from Wertheim in different periodicals 1966-1974; papers concerning the debates on China and Indonesia and the role played by prof. Wertheim therein, 1959-1997; concept of lecture 'Indonesian Communism and the Problem of Cultural Transformation' by Ruth T. McVey on the occasion of the 25th anniversary of professor Wertheim.
Wreksoatmodjo, Gumuljo (1912-1996)
Period: 1964-1965, 1980, 1988
Size: 0.12 m.
Lawyer; born in Solo, Indonesia, 27-2-1912; buried in Solo, 22-4-1996; education HIS (Hollandsch-Inlandsche School, Dutch Native School), MULO (Meer Uitgebreid Lager Onderwijs, Broader Lower Education), AMS (Algemene Middelbare School, General Secondary School) in Yogyakarta, and study of law at the Rechtshoogeschool Batavia (1939), student of Prof. W.F. Wertheim; ex-tapol (political prisoner) regime Soeharto; after release lawyer of ex-tapols.
Dossiers with documentation on case perkebunan (plantation) Bandar Betsy, Sumatra, 1964-1965; clippings and newspapers on Bandar Betsy case, 1965; correspondence concerning Wreksoatmodjo's activities, 1980, 1988; audiotape with interview with Wreksoatmodjo, 1987.
Collection Sudjinah (born 1928)
Period: 1980-2003
Size: 2 folders
Finding aid: list
Born in Solo; journalist, interpreter and translator: political active in the Gerakan Wanita Indonesia (Gerakan, Indonesian left women's movement, linked with PKI); member of LEKRA (Institute of People's Culture, linked with PKI, 1963); political prisoner in Tangerang (1981-9183).
Collection of letters from Sudjinah to Heleen ten Holt (1981-2003, n.d.), to Neeltje Koning (1980,1983), to Alle Hoekema (1982); documents concerning Sudjinah.
Collection Aletta Sophia Charlotta (Let) Reydon (1864-1951)
Period: c.1870-c.1905
Size: 0.15 m.
Finding aid: list
Born in Amsterdam; teacher; moved in circles of writers, poets, and painters, the so-called Tachtigers (Eighties); with her husband, military medical doctor, to the Netherlands-Indies, 1888; final return to the Netherlands, 1905.
Collection contains her Memories (2 vols.) and letters and photographs from the period 1870-1905.
Collection Jaap Erkelens
Period: 1972, 1976, 1979-1983
Size: 0.25 m.
Manuscript about he isle of Buru by M.A. Zaelani, 1980 (with photos); file on Kelompok 50 (group of 50 leading critics against the Soeharto rule), 1979-1982; file 'various documentation, pamphlets, leaflets, and reports' concerning the Soeharto rule, 1972, 1976, 1980-1983; file on works of the Indonesian writer Pramoedya Ananta Toer, 1980-1981; Indonesian students' magazines, 1980; file on the affair of a speech by Pramoedya Ananta Toer at the Universitas Indonesia, 1981; various correspondence by publishing-house 'Hasta Mitra', 1980-1982; documents from Sawito Kartowibowo, 1981; thesis about the Madiun Affair, 1948; documents on the Indonesian National Archives Workshop on Oral History, Jakarta, 14-17 June 1982 (2 folders).
*Wilson Bin Nurtiyas (known as Wilson) (born 1968)
Period: 1996-1998, Size: 0.03 m., Finding aid: list
Being a student Wilson was a member of the Legislation Committee of the Indonesian People's Democratic Party (Partai Rakyat Demokratik, PRD) , a coordinator of the Indonesian Solidarity with the Struggle of the Maubere [East Timorese] People and head of the department of international relations of the Indonesian Centre for Labour Struggle (PPBI); publisher of the bulletin Workers Organising; he was arrested following a demonstration in Jakarta, September 1996; sentenced to five years in prison for subversion, June 1997; released as part of a partial amnesty for political prisoners, July 1998; head of the PRD's department of education and publicity.
Correspondence with family and friends from Cipinang Prison, Jakarta 1996-1998 and correspondence with trade union activist Dita Indah Sari 1997-1998; statement on PRD Manifesto and article by Wilson.
Taring Padi
Recently the IISH Asia Department acquired a collection of 28 Indonesian posters created by Taring Padi, a group of Indonesian artists from Yogyakarta, Java.
For more information, see: Posters Taring Padi
The Siauw Giap (1922-2002)
Period: 1960s-1990s, 2000-2002, Size: c. 8 m.
Born in Malang, Indonesia, 1922, died in Leiden, 2002; sociologist and historian on Chinese Indonesians; studied history and sociology at the University of Indonesia, Batavia, 1946-1948; with a Malino student grant to the Netherlands, 1948; studied sociology at the University of Amsterdam, 1951-1961; apprenticeship in England, 1951-1954; student-assistant of Professor W.F. Wertheim, 1954-1961; research-assistant at Yale University, 1961-1962; research-assistant at the Vrije Universiteit, Brussels, Belgium, 1963-1966; research fellow Sinological Institute, University Leiden, 1966-1987; did a lot of archival research on the social-economic situation of Chinese Indonesians.
Manuscripts, typescripts, notes, reports, articles and other documentation relating to the Chinese Indonesians, Indonesia, Southeast Asia and various Asian social-economic themes.
Darsono Notosudirdjo, Raden (1893-1976)
Period: 1945, 1950-1975, Size: c. 117 letters

Born in Pati, Java; journalist and editor Sinar Hindia (1921); propagandist Sarekat Islam; member, later on president of the Partai Komunis Indonesia (PKI, Indonesian Comunist Party) (1920-1925); journey through Siberia to Western Europe (1921-1923); represented PKI at the third Congress of the Comintern in Moscow (1921); remained abroad for nearly two years, during which time he worked for several months at the Comintern's bureau in Berlin; spoke at a congress of the Dutch Comunist Party in Groningen (1921); returned to Moscow (1922) and afterwards to Indonesia (1923); arrested (1925) and expelled from Indonesia (1926); by way of Singapore and China he returned to Soviet Russia where, under the pseudonym of Samin, he worked for the Comintern; elected an alternate member of the ECCI (1928); expelled from the Comintern (1931); went to the Netherlands (1935); returned to Indonesia (1950) and after breaking with communism he became an advisor at the Indonesian Ministry of Foreign Affairs till 1960; died in Semarang, Java (1976).
C. 117 letters from Raden Darsono Notosudirdjo to his son Alam Darsono and Pop Stam (wife of Alam Darsono), 1945, 1950-1975; letters from Raden Darsono to H. Rasjidi and M. Hatta (1974); memoirs from and written interviews with Raden Darsono (1968); photographs of among others Raden Darsono, Alam Darsono, Alimin, Musso and Tan Malaka.
Adam Soepardjan (born in 1927)
Period: 1980s, 1990s, 2000-2002, Size: 0.36 m.
Pseudonym: Bintang Karim; born in 1927 on Sumbawa; during the Japanese occupation of Indonesia labourer in New Guinea (1942-1945); sergeant-major at the Indonesian marines (1945);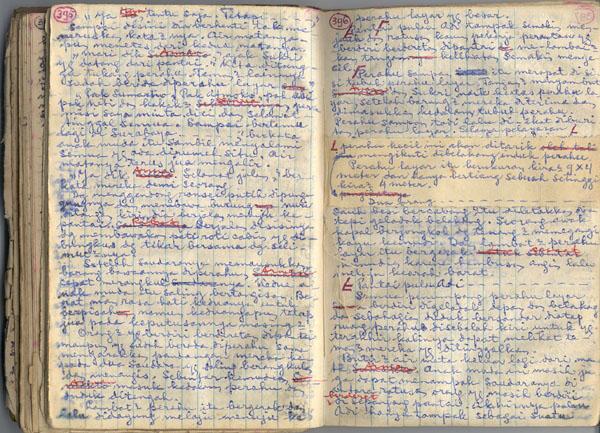 arrested and imprisoned by Dutch troops (1948-1949); went to Surabaya after the transfer of sovereignty to Indonesia (1949); worked at De Vrije Pers; warehouseman at a Surabaya paint factory (PAR) where he became involved in the trade union movement; secretary of the trade union Serikat Sekerdja PAR; board member of the Sarekat Buruh Industri Metal (union of metal workers); SOBSI delegate to Europe, among others to Eastern Germany and Czechoslowakia (1959); political prisoner without trial at Kalisosok prison in Surabaya (1965-1978); now living in Surabaya as a foreign language teacher.
Various manuscripts and typescripts of his memoirs; notebooks with handwritten memoirs of his travels as a SOBSI delegate to Europe (1970s); correspondence with Frits van den Bosch (1990s); correspondence by Van den Bosch with publishers (1974-2000).
- Partai Rakyat Demokratik (PRD)
Collection of leaflets, reports, statements on the PRD, 1990s; some periodicals among others Suara Buruh 1993; documents concerning student actions 1991-98; PRD documents on the elections 1997; documents concerning the students' organization Solidaritas Mahasiswa Indonesia untuk Demokrasi (SMID); propaganda material.
- Soerjono (1928-2000)
Recently the Asia Department IISH acquired the archive of the Indonesian journalist and a champion of Indonesian independence Soerjono, also known as Yoko. Due to the coup in 1965 he could not return to Indonesia anymore. More than 35 years of his life he spent in China, Russia and eventually in the Netherlands. Soerjono was born in Prambanan, East Java, in 1928. After finishing the primary school he attended the Cultuurschool, an agricultural college. During the second year of this education in 1944, Soerjono was run in by the Japanese, because of doing courier services for the antifascist movement of Amir Sjarifoedin. He was sentenced to two-and-a-half-year's imprisonment. After the proclamation of independence on 17 August 1945 Soerjono went to Yogyakarta.
There he worked for the weekly Revolutioner of the youth organization Pesindo, the Pemuda Sosialis Indonesia. From 1948 he worked for the daily Harian Rakyat (later the organ of the Partai Komunis Indonesia, PKI). From 1959-1964 he was editor-in-chief of Sports & Film, a special weekend issue of the Harian Rakyat. In 1964 he was sent out to China as a correspondent of the Harian Rakyat and as a delegate of the Indonesian youth organization for Asia and the Pacific. Soerjono, who in 1959 married with Atih, was left by his wife in 1970. She moved to Sweden with their son and daughters. Because of a conflict Soerjono left China in 1972. Returning to Indonesia was due to the political situation a big risk and therefore he went to the Sovjet Union. There he studied Russian and the history of the Russian sports press. In Moscow he met Dutchmen, who arranged that he could leave for the Netherlands in 1989. In the Netherlands Soerjono wrote his memoirs and worked on a book about Amir Sjarifoedin. He maintained an extensive correspondence with his brother Alex Soenarjo, with Indonesian friends and others. Soerjono died in September of the year 2000 in Amsterdam, 72 years old.
The archive (1960-2000) contains correspondence, diaries, documentation and manuscripts of books and articles, among others his autobiography 'From Moscow withouth love', a transcription of recordings of an interview with Soerjono by Kees Princen. The 32 tapes with interviews and a collection of photos were deposited to the Image and Sound Section of IISH. Size of the archive is 0.50 m.; consultation is not restricted. An interview with Soerjono can also be found in the collection 'In Search of Silenced Voices'.
- INDOC
Recently the Indonesian Documentation and Information Centrum at Leiden (INDOC) had to discontinue its activities. IISH has offered shelter to its extensive collections on labour in contemporary Indonesia. Fortunately, IISH can also continue INDOC's documentation work, albeit on a new footing. The information collected is now more narrowly focussed on labour (labour politics, labour policy, working conditions, labour migration, etc.). At the same time, however, the range of periodicals covered has been expanded, especially to include newspapers and weeklies from different regions of Indonesia (National newspapers: Kompas, Djakarta Post, Media Indonesia, Republika, Merdeka; Local newspapers: Suara merdeka, Jawa Pos, Surya, Bernas, Pikiran Rakyat, Waspada, Pedoman Rakyat; Weekly tabloids: Adil, Inti Jaya).
The INDOC material is available on microfilm.
The database of the INDOC collection is available online: English / Bahasa Indonesia
- Suparna Sastradiredja (1915-1996)
IISH Asia Department newly acquired an addition to the archive of the Indonesian trade union leader Suparna Sastradiredja.
Trade union leader and author; member of the Komite Nasional Indonesia Pusat, the provisional Indonesian parliament in Yogyakarta; in 1947 one of the founders of the trade union of plantation workers Sarekat Buruh Perkebunan Republik Indonesia (SARBUPRI) and its secretary general until 1965; being in China in 1965 he escaped from the persecution of communists in Indonesia after the coup d'etat and moved to the Netherlands in 1978.
The archive (ca. 15 metres) mainly consists of manuscripts of articles, of documentation and of correspondence on the SARBUPRI, SOBSI and on the PKI.
See for the preliminary list: http://www.iisg.nl/archives/en/files/s/10750333.php
- Poncke Princen
The International Institute for Social History (IISH) recently acquired the archive of the now 73 year old Indonesian activist Poncke Princen. As a Dutch soldier Princen deserted to the Indonesians in September 1948. Since many years Princen is acting as president of the Lembaga Pembela Hak-Hak Azasi Manusia (LPHAM, Indonesian Institute for the Defence of Human Rights). Many documents from his archive are related to his human rights activities.
Princen, Poncke (born 1925) *
Period: 1944-1997, Size: ca. 5 m.
Full name: Johannes Cornelis Princen (Jan a.k.a. Poncke); born in The Hague; education at the Roman Catholic preparatory seminary Weert 1939-1943; left the seminary 1943; during attempt to flee to England caught by Germans 1943; joined the Dutch Storm Troops 1944-1946; as conscript sent to Indonesia 1946; deserted to Indonesians 1948; official at the Indonesian Immigration Office 1950-1953; member of the Indonesian national parliament 1956; arrested and imprisoned because of his uncomfortable questions for the Soekarno government 1957-1958, 1962-1966; vice-president of LPHAM (Indonesian Institute for the Defence of Human Rights) 1966; correspondent for Dutch media 1966-1970; after anti-Japanese demonstrations (Malari Affair) arrested and put in prison 1974-1976; after release involved in Aceh and East Timor affairs and in defending opponents to the Soeharto regime.
Correspondence with family 1944-1973, Kees Princen 1989-1996; diary 1947; private documents (pribadi) 1961, 1963, 1990s; files on his East Timor activities 1982-1993; biographical documents, reports and notes 1987-1992; letters, photos and documentation on his 70th birthday 1995; files on the activities of LPHAM 1987-1990; files on Indonesian political prisoners (ex-tapols) 1993; files on his trade union activities 1990-1995; correspondence with ILO 1992; files on politics and political parties in Indonesia 1991-1996.
* Access to the archive has been restricted.
- In Search of Silenced Voices
More than 200 tapes with interviews recently handed over to the Audiovisual Department of the International Institute of Social History (IISH)
The objective of the project In Search of Silenced Voices was to collect individual life histories by interviewing of those Indonesian political emigrés, who are still living in Western Europe, China and Vietnam. These life histories cover their activities as members of the Indonesian leftist intelligentsia before 1965 as well as the diaspora they experienced after 1965.
For more detailed information on this project: 'In Search of Silenced Voices' or in bahasa 'Mencari suara yang dibungkam'
See Also
Webpresentation of part of our Indonesian collections in relation to the 2004 Elections
Also see the presentation on the Van Kol collection